THERAPEUTIC CALMING WEIGHTED BLANKETS
Do You Have A Loved One Who Suffers With ​
You Can Help Them
Give Your Loved One The Gift Of Deep Touch Therapy To Alleviate Stress And Improve Relaxation
With A Therapeutic Calming Weighted Blanket
"

Weighted Blankets
Weighted blankets are throw-sized blankets filled with weighted materials, such as plastic pellets which give a " Deep Pressure Touch Stimulation Type Of Therapy " that almost anyone from child to adult can benefit from .
The weighted blanket uses the principles of Deep Touch Pressure (DTP) or Deep Pressure Stimulation (DPS) to improve relaxation which is the perfect Therapy to use for loved ones suffering with :
This, in turn:
Helps you go to sleep quicker and stay asleep for longer;
Calm Down If Overexcited
If Having a Meltdown;
And Focus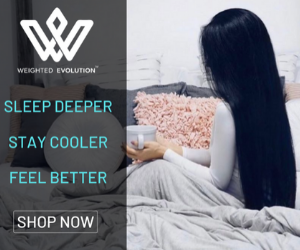 These Blankets Come In Different Sizes And Weights, And Can Be Used By Kids And Adults To Increase A Sense Of Calm In Their Daily Lives.
THE BENEFITS OF WEIGHTED BLANKETS ​
When draped across their lap or around their shoulders, a deep pressure touch stimulation is brought about by the blanket that produces Serotonin in the child, a hormone that helps to calm them down and produce a happier frame of mind.

Covering your Loved One at bedtime, with the weighted blanket to once again help the production of Serotonin, will lead to the production of Melatonin :
​
​ *The hormone that will help your child or loved one achieve a peaceful, restful night's sleep *
Encourages Stress Reduction
A weighted blanket may be the perfect Therapy Solution for those on the Autism Spectrum Disorder as the gentle pressure of weighted blankets releases chemicals in the brain that are known to :
Sensory Processing Disorder (SPD)
Children with Autism have a great deal in common with those on the ASD Spectrum who suffer from Anxiety Disorders (SPD ) and as a consequence , both can experience emotional and behavioural turmoil.
A weighted blanket placed on these children can have a calming effect as well as for those anxious individuals who use an adult weighted blanket to help them feel a much-needed hug.

ADHD
Patients who have ADHD (attention deficit hyperactivity syndrome) often exhibit various symptoms such as Lack Of Focus, Restlessness, and being Impulsive and Weighted Blankets Can Help Them To Focus.

Improved Sleep ​
By using weighted blankets and deep pressure stimulation it has been found to create a
Calming and Soothing Effect that Minimises Anxiety

Helps boost Serotonin and Melatonin levels

Making it Easier To Relax into a more Restful Sleep instead of tossing and turning all night in the bed.

Supports The Elderly
As people age, their sleep-wake cycle changes as Stress, Anxiety and Chronic Pain can upset sleeping, causing episodes of Insomnia
​
Weighted blankets can also be useful to the Elderly and may help them sleep better at night .
Are you ready to tackle Your Loved Ones Sleeplessness, Anxiety and Stress ?
Take Action Now
As A Parent Or Carer You Can Help Your Loved Ones With The Gift Of " Deep Touch Therapy " in The Form Of A " Calming " Weighted Blanket
Help Them Start Sleeping as They Should
Like A Baby, Each And Every Night !
Without Anxiety And Stress !
Get $50 Off Your Order Of $250 Or More! Use Code: WE50