GUT HEALTH AND AUTISM


​ Autism spectrum disorder (ASD) is a neurological disorder that affects normal brain development.

The recent finding of the microbiota–gut–brain axis indicates the bidirectional connection between our gut and brain, demonstrating that gut microbiota can influence many neurological disorders such as Autism.
Most Autistic patients suffer from gastrointestinal (GI) symptoms.

Many studies have shown that early colonization, mode of delivery, and antibiotic usage significantly affect the gut microbiome and the onset of autism.

Microbial fermentation of plant-based fiber can produce different types of short-chain fatty acid (SCFA) that may have a beneficial or detrimental effect on the gut and neurological development of autistic patients.





​Several comprehensive studies of the gut microbiome and microbiota–gut–brain axis help to understand the mechanism that leads to the onset of neurological disorders and find possible treatments for autism.

This review integrates the findings of recent years on the gut microbiota and ASD association, mainly focusing on the characterization of specific microbiota that leads to ASD and addressing potential therapeutic interventions to restore a healthy balance of gut microbiome composition that can treat autism-associated symptoms.
Autistic children are disproportionately affected by gastrointestinal issues such as bloating, cramps, diarrhoea and constipation.
Several studies suggest that children on the spectrum have atypical gut bacteria, but these studies don't tell us whether autism causes dysbiosis or vice versa.




​ Support Gut Health with Digestive Relief And Digestinol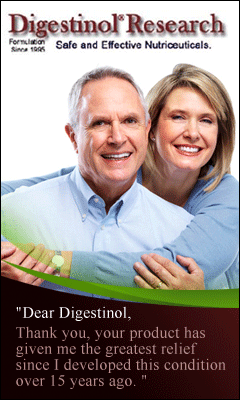 ABOUT DIGESTINOL
Digestinol is a safe and all-natural product which has been reported worldwide by individuals suffering from digestive diseases/disorders to be a godsend of relief where prescriptions drugs used in the past have failed.

Try it for yourself and you will be amazed at your results!
100% Safe For Children And Adults Of All Ages,
Digestinol may also be taken in conjunction with prescription medications with no incidence of side effects.
​ Digestinol Doesn't Require A Prescription
<
Digestinol Health Benefits:
• 100% natural product.
• 100% non-toxic with No negative side effects. Safe for adults and children of ALL ages.
• May be used simultaneously with any medication with NO side effects.
• Helps stop the bleeding, damage and leakage of the intestinal wall.
• Helps to effectively balance and restore proper immune system function alleviating the auto-immune response and allergic conditions.
• Acts as a potent anti-inflammatory agent to reduce inflammation.
• Helps to rebuild the intestinal protective mucosa lining.
• Promotes and accelerates the tissue healing process.
• Has anti-bacterial, anti-viral, anti-fungal, anti-yeast and anti-parasitic effects
• Helps stop the overproduction of stomach acids which lead to heartburn, acid reflux disease or gastroesophageal reflux disease (GERD)
​
Digestinol is safe for children and adults, as well as mothers in all stages of pregnancy and nursing
Digestinol is not habit forming.